KVT Pinch Sleeves
for directly operated pneumatic pinch valves (other dimensions and material combinations available on request)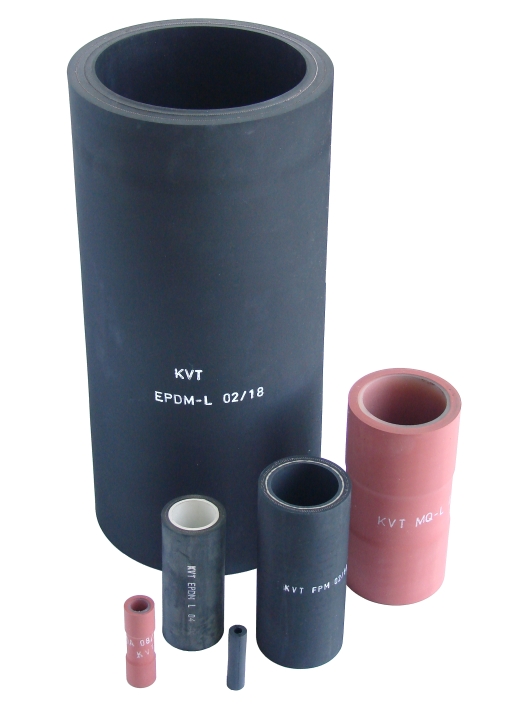 ---
KVT
No.
Material
Trade name
Material
(Inside)
Material
(Outside)
T max.
[°C]
E
Remarks1)
NN
Natural Rubber
NR

NR

80

*

NN = Standard version


NR: Very good mechanical and elastic properties, very good abrasion resistance.


Medium resistance to seawater, acids and bases of medium concentration.





WN
Natural Rubber
(inside FDA, black)

NR-L sw

NR

80

LN
Natural Rubber
(inside FDA, white)
NR-L h

NR

70

HH
Natural Rubber
"heat resistant"
NR-H

NR-H

90

IN
Butyl-Naturkautschuk-Combination
(Isobutylen-
Isopren)
IIR

NR

90

Moderate resistance to seawater, acids and bases of medium concentration.

SN
Styrol-Butadien-Kautschuk
(Buna EM)
SBR

NR

80

Good resistance to freon, glycols and brake fluids.

EE
Ethylen-Propylen-Dien-Terpolymere
(Buna AP)
EPDM

EPDM

120

*

Good resistance to water, glycol, aggressive chemicals and steam.


ÄE
Ethylen-Propylen-Dien-Terpolymere
(inside FDA, black)
(

Buna AP)

EPDM-L sw


EPDM

120

*

PE
Ethylen-Propylen-Dien-Terpolymere
(inside FDA, white)


(

Buna AP)

EPDM-L h


EPDM

110

BN
Acrylnitril-Butadien-Rubber / Nitrilrubber
(

Perbunan

)

NBR

NR

80

*

Good resistance to oils, animal and vegetable fats, hydrocarbons and gas.




GN

Acrylnitril-Butadien-Rubber / Nitrilrubber
(inside FDA, black)(Perbunan)

NBR-L

NR

80

*

DN
Acrylnitril-Butadien-Rubber / Nitrilrubber
(inside FDA, white)
(

Perbunan

)
NBR-L h


NR

80

CN
Polychloropren-Rubber
(

Neoprene

)

CR

NR

80

Good resistance to grease, ozone, weathering, freon. Lightfastness and flame resistance.

MN
Chlorosulphonyl-Polyethylen-Rubber
(

Hypalon

)

CSM

NR

80

Chlorine gives the vulcanizate flame retardancy and mineral oil resistance, but also reduces cold flexibility.

FC
Fluor-Rubber
(

Viton

)

FPM,
FKM

CR

120

Very good resistance to mineral oils, animal and vegetable fats, chlorinated aromatic and aliphatic solvents and fuels.

KK
Silicone-Rubber
(

Silicone

)

KK

KK

180

Good resistance to salt solutions and water at 100°C, good resistance to weathering, ozone, minerals, animal and vegetable fats, alcohols and glycols. Good temperature resistance.



MQ
Silicone-Rubber
(inside FDA)


(

Silicone

)
MQ

MQ

180
1) In this column, only general information on the elastomer group is possible. Individual consideration necessary. The light-coloured grades generally have poorer mechanical properties than the black elastomers. See General Tables of Resistance.

FDA: Part of sleeve in contact with medium acc FDA positive list.
black: inside of sleeve made of black rubber / white: inside of sleeve made of "white" rubber
E: These sleeves are available with conductive inside (R < 1.000.000 Ohm), additonal fee!
KTW: Leitlinie zur hygienischen Beurteilung von organischen Materialien im Kontakt mit Trinkwasser (Umweltbundesamt).
The abbreviations are acc. ISO 1629:1976 (E) and ASTM D-1418-79.
Chemical resistance of elastomers