Compact press MAXI-COMPACT
The compact wine press / fruit press for the professional - a universal all-rounder for everything that can be pressed!
The MAXI-COMPAKT press is a robustly built and therefore easy to maintain compact press made of stainless steel.
Originally developed for the production of high quality wines, it is used not only for all types of grapes (white, red, whole grapes and ice wine), but also for fruit, vegetables and herbs (strawberries, raspberries, currants, plums (pressed with pit), chokeberries, beetroot, celeriac, apples, pears, quinces, gooseberries, celeriac, ginger, carrots, ...)
In addition, the MAXI-COMPACT is used for the pressing of wine lees (in combination with insert filter cloth and filter aid) whereby the unmixed pressing of the lees is a particular advantage.
Due to the fabric-reinforced forming membrane, even the smallest quantities can be pressed without damaging the press cloth. This makes the MAXI-COMPACT particularly suitable for very small quantities and difficult harvests, often as a supplement to an already existing large press.

Gentle and fast processing of mash with best juice qualities!
The MAXI-COMPACT is a fast and gentle press with the largest possible filter surface. As a rule, a generous pre-juicing already takes place during filling.
During pressing, the pressing pressure is exerted from the centre of the drum via the central pressing membrane against the all-round slotted press basket. This results in short flow paths, a short pressing time and thus excellent juices with low oxidation.
Best workmanship made of high-quality stainless steel. The press basket is driven by an electric motor and can be rotated 360° along its longitudinal axis.
The electric drive ensures gentle loosening and easy emptying of the marc, for example into the juice trough.
Pressure and vacuum are generated pneumatically by an external oil-free compressor with pressure vessel.
Dimensions:
The MAXI-COMPACT is currently available in two sizes:
Drum capacity 250 litres (MAXI-COMPACT 250) and
Drum capacity 400 litres (MAXI-COMPACT 400)
Accessories for the MAXI-COMPACT:
Download and other links about MAXI-COMPACT press: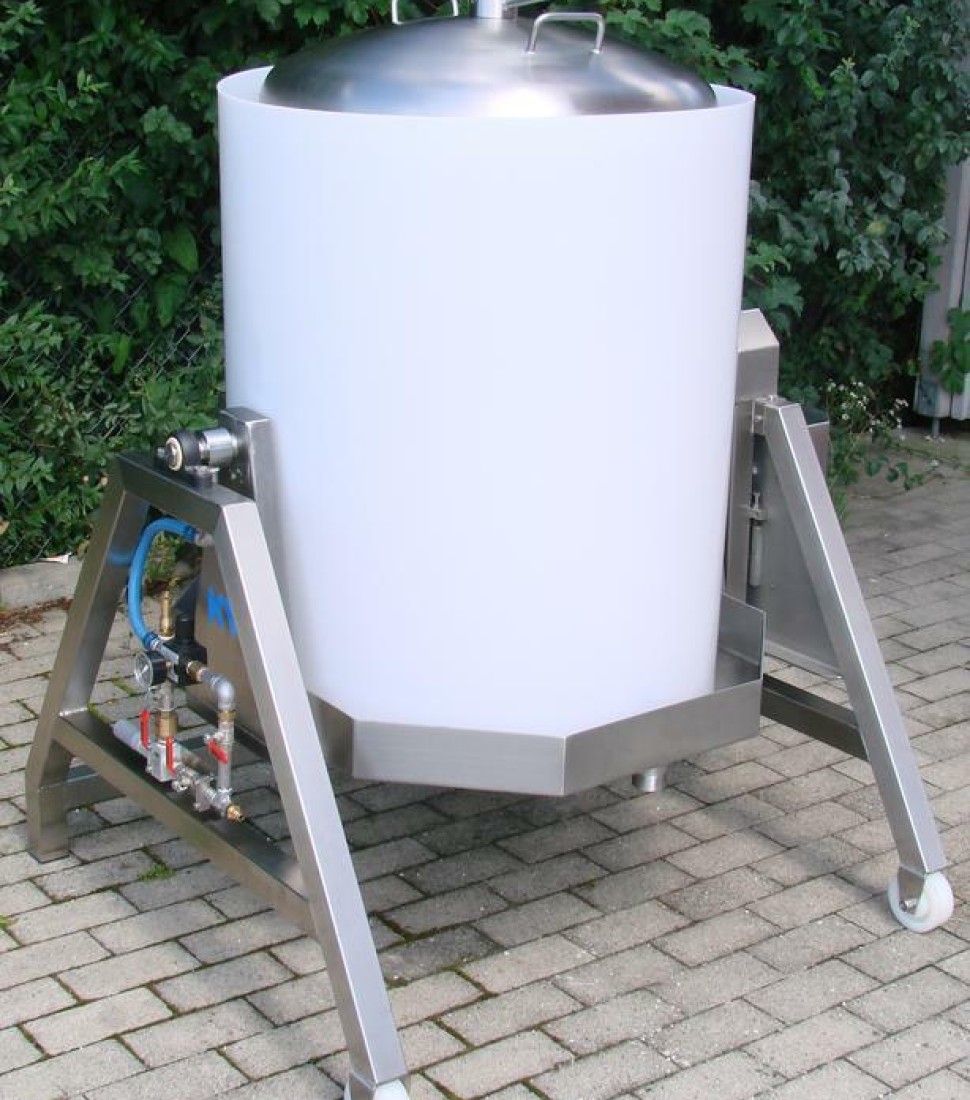 Accessories!
Splash guard made of food-grade plastic for the KVT compact press MAXI-COMPACT!